WELCOME TO THE WORLD OF FIBRE ARTS
Shuttles & Needles
Shuttles & Needles welcomes people from every background & profession, providing experience, space & support for you to enjoy the meditative & joyful aspects of textile crafts like hand weaving, hand spinning & felting. Get ready for a memorable experience & journey of discovering the artist within you!
Anyone with interest in arts & crafts, enjoy working with hands, experiment with colours & textures, curious minds, people who love mathematical patterns, bitten by creativity bug, knitters, crocheters, designers, artists & slow fashion enthusiasts will find something interesting at Shuttles & Needles.
what is your hobby?
Make time with yourself
Welcome to the world of modern portable hand looms and spinning wheels where weaving & spinning are easy and demystified! Anyone can pursue it as a hobby at home.
While knitting & crochet are being enjoyed as hobbies in our country, weaving, hand spinning & felting largely have been the traditional artisan's forte. The traditional hand looms take years of practice to weave & master, making it hard to pursue as hobby. The looms & spinning wheels we sell are portable, table top & are easy to use.
Our youngest 'client' is 6 years old and the oldest so far is 82 years young!
The beginners' looms are easy to set up, learn and start weaving in a matter of hours. Weave Kanjivaram korvai design or Swedish krokbragd pattern, choice is yours! Ready to take the plunge?
Read more
Textile design studios
Creative freedom
Good design tools are a great boon to designers. Helping from ideation to execution, modern tools are less demanding on skills so you can focus more on creative work. The looms we carry are designed ergonomically & are an inspiration by themselves to work hands on! We bring Ashford looms & AVL computerised looms to India which are used by many leading design institutes, studios and designers across the world.
While the Ashford Table looms & Jack looms are engineered to get a perfect woven cloth, the AVL computerised Dobby & Jacquard looms take the game to higher levels by cleverly integrating computers with hand loom.
We conduct short term courses on weaving & spinning for designers who are interested in picking up threads and cross-training. 
Read more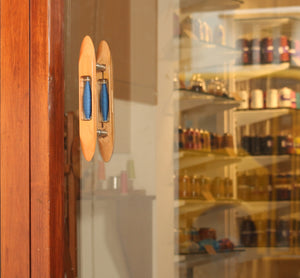 STUDIO
With all the lovely tools, yarns & fibres at our disposal, everyday is new! We experiment with colours, textures, materials, yarn & weave structures, weaving techniques, upcycling and what not!
Weaving as therapy
Making threads change lives
Weaving, by its repetitive nature is very calming and meditative for all. For people with Intellectual & Developmental disorders, it adds up as a great occupational therapy. Weaving helps improve the mind-motor co-ordination, fine motor skills, improves attention span & boosts self-esteem.
Based on Japanese philosophy of wabi-sabi which emphasises one to see the beauty in the notion of imperfection, we advocate free style weaving which is a 'no rule, no mistake' based approach. The concept of mistake is removed from the minds encouraging free flow of expression through weaving. The resultant fabrics are beautiful and stunning! We carry Rehab looms, train the trainers on weaving and provide design & product ideas. What better vocation than something which keeps you meaningfully engaged and is therapeutic too!
READ MORE
weaving at schools
"BRAINWEAVES" PROGRAM
Multi-sensory learning through weaving can help children learn more effectively than  by hearing or visual aids alone. It makes them engage, reflect, see connections and apply knowledge in different contexts.
Emphasis is given to conceptual learning which helps improve deeper understanding, critical thinking, problem solving skills and adapting to new environments.
It makes them mindful of surroundings rather than gadgets and other distractions hence increasing attention span which is required for focusing on what they study, understand and encode.
We supply the looms & materials, train the teachers on weaving and program implementation, provide lesson plans & worksheets. A complete package.
Read more